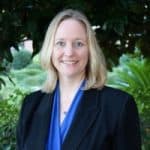 Academic Faculty
Phone:
(850) 645-0354
Fax:
(850) 644-8994
Office:
CC1 415
Dr. Hall-Mills is an academic faculty member in the School of Communication Science and Disorders at Florida State University where her scope of work is balanced among teaching, research, and service activities. She prepares pre-service clinicians at the undergraduate, post-baccalaureate, and graduate (masters and doctoral) levels in school-age speech, language, and literacy development and disorders, including assessment, intervention, and educational policy practices in schools. She serves as a Co-Investigator on the Bilingual Oral Language and Literacy Development Doctoral Leadership Training Grant and training faculty for a master's level personnel preparation training grant for Improving Language and Literacy Outcomes for Children with Communication Disorders in High Need Populations. Dr. Hall-Mills' research on written language development and disorders focuses on assessment and intervention practices for language and literacy deficits exhibited by school-age children and adolescents.
Education
BS: Florida State University, Speech-Language Pathology & Audiology
MS: Florida State University, Communication Disorders
PhD: Florida State University, Communication Science & Disorders
CCC-SLP
Research Interests
Language/Literacy and Reading Disorders; Written Language Development and Assessment; Evidence Based Practices in Schools; School-Age Language and Literacy Development and Disorders; Emergent Language and Literacy; Educational Policy for Studies with Disabilities
Teaching Interests
Schools Practicum, Language Development & Disorders, Research Evaluation, Applied Research, Phonetics
Publications & Research
Textbooks and Teaching Materials co-written to support a series of courses for Colleges of Teacher Education in Ethiopia:
Cognitive Foundations in Reading and Writing (2014)
Teaching Reading and Writing in Primary School (2014)
Methods of Teaching Listening and Speaking Skills (2014)
Assessment of Language Skills and Differentiated Instruction (2015)
Introduction to Language and Linguistics (2016)
Hall-Mills, S., Price, J., Deppe, J. (2017, January). Find funds for needed resources: How can educational audiologists or school-based speech-language pathologists match the right funding sources to their needs? ASHA Leader, 22, 38-39.
Hall-Mills, S., & Apel, K. (2015). Linguistic feature development across grades and genre in elementary writing. Language Speech and Hearing Services in Schools. 46, 242-255.
Wheat, K., Hall-Mills, S., & Deppe, J. (December, 2013). Drafting a blueprint for successful funding in schools. ASHA SIG 16 Perspectives on School Issues.
Hall-Mills, S., & Apel, K. (2013). Narrative and expository writing of adolescents with language-learning disabilities: A pilot study. Communication Disorders Quarterly, 34(3), 135-143.
Hoffman, L., Ireland, M., Hall-Mills, S., & Flynn, P. F. (2013). Evidence-based speech-language pathology practices in schools: Findings from a national survey. Language Speech and Hearing Services in Schools, 44, 266-280.
Ireland, M., Hall-Mills, S., & Millikin, C. (2013). Appropriate implementation of severity ratings, regulations, and state guidelines: A response to Spaulding et al., (2012), Language Speech and Hearing Services in Schools, 44, 320-323.
Hall-Mills, S., & Apel, K. (2011). Differential effects of letter name spelling and text representation in early reading ability. Contemporary Issues in Communication Sciences and Disorders, 38, (97-108).
Hall-Mills, S., & Apel, K. (2007). A hybrid approach for teaching and practicing evidence-based practice. Perspectives on Language Learning and Education, 14, 1, 20-22.
Grants & Awards
Co-Investigator, Bilingual Oral Language and Literacy Development, Doctoral Leadership Grant, Office of Special Education Programs, United States Department of Education, $1 million. (C. Wood, Principal Investigator).
Primary Investigator, Exploring the Language of Persuasion: Analysis of Linguistic Features in High School Students' Persuasive Discourse, Small Project Grant Program, Florida State University, Council for Research and Creativity, $3,000.
Reading Specialist, Ethiopia READ TA Project, Funded by United State Agency for International Development (USAID), $2.8 million. (F. Ramos, Y.S. Kim, & J. Milligan, Primary Investigators).
Training Faculty, Improving Language and Literacy Outcomes for Children with Communication Disorders in High Need Populations: A Personnel Preparation Grant¸ U.S. Department of Education, Office of Special Education Programs, $1,248, 418. (T. Macrae, PI).
Editor's Award, Language Speech and Hearing Services in Schools (2014)
Editor's Award, Contemporary Issues in Communication Science and Disorders (2011)
Faculty Teaching Award, FSU College of Communication and Information (2016)
Undergraduate Teaching Award, FSU College of Communication and Information (2016)
Distance Learning Award for Excellence in Online Teaching, FSU (2015)