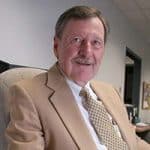 Charles R. McClure, Ph.D.
Francis Eppes Professor and Dir. Information Institute
Phone:
(850) 644-8109
Office:
LSB 226A
Charles R. McClure is a Francis Eppes Professor and the Director of the Information Use Management and Policy Institute, received his PhD in Library and Information Services from Rutgers University. His teaching areas include information policy, planning and evaluation of networked services, broadband deployment and impacts, and digital libraries. He has served as an editor for a number of journals and is a frequent speaker at professional meetings.
Research:
His research focuses on planning and evaluation of information services and technology including the development of e-metrics and performance measures; public library management and services; federal information policy, E-government, broadband and IT workforce impacts; and federal web-based services and transactions. He has authored or co-authored some 50 monographs and over 300 reports and scholarly papers. He has served as the Principal or Co-Principal Investigator for a number of funded projects from agencies such as the Bill & Melinda Gates Foundation, the U.S. Institute of Museum and  Library Services, the National Science Foundation, the American Library Association, a number of State Library agencies, The National Archives and Records Administration, and others. Additional information about McClure can be found at his website at:
Research Interests
Planning and Evaluation of Information Services and Technology Including the Development of E- Metrics and Performance Measures; Public Library Management and Services; Federal Information Policy, E-Government, Broadband and IT Workforce Impacts; Federal Web-Based Services and Transactions
Grants & Awards
Grants:
Currently, McClure is the Principal Investigator for the four-year study Assessing Information Technology Educational Pathways that Promote Deployment and Use of Rural Broadband, funded by the National Science Foundation for $844,825.  In 2012 he completed, as Principal Investigator, two broadband needs assessment studies for the North Florida Broadband Authority (NFBA) and the Florida Rural Broadband Alliance (FRBA).  Other recent funded research projects can be found on his website at: http://www.ii.fsu.edu/content/view/full/18480
Awards:
His research has won a number of awards, including:
His co-authored study Federal Information Policies in the 1980s: Conflicts and Issues (Ablex, 1987) was recognized by the American Society for Information Science as the best book in information science for 1988.

His study, Electronic Networks, the Research Process, and Scholarly Communication received the American Library Association's Jesse H. Shera award for the best research study in library/information science -- the third time he won the award.

In a 2006 research study ("Scholarly Productivity of U.S. LIS Faculty," Library and Information Science Research, August 2006), McClure was identified as the 4th most productive Library and Information Science (LIS) faculty member in journal publication during 2001-2005.

McClure also was identified as only one of four LIS faculty that has been ranked in the top 10 of LIS faculty for journal productivity since 1981.

His co-authored paper "Functionality, Usability, and Accessibility: Iterative User-centered Evaluation Strategies for Digital Libraries" that appeared in a 2007 issue of Performance Measures & Metrics was given the award of "Highly Commended" by the Emerald LiteratiNetwork publishers.