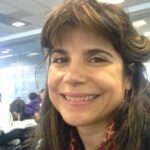 Research Coordinator
Phone:
(850) 644-2238
Office:
Warren 406
Education
PhD – The Florida State University – Linguistics - Second Language Acquisition
MEd – McGill University, Montreal, Canada – Second Language Education (ESL)
BA – University of Havana, Cuba – English Literature and Translation
Research Interests
Current Research: Heritage Language Instruction in Hybrid Courses. Other Research Interests: Second language acquisition and processing. Grammatical features of Romance languages. Bilingualism in the United States.
Teaching Interests
Advanced Spanish Grammar and Composition. Spanish & English Phonetics and Phonology. Spanish for Heritage Speakers. Spanish Morphology and Syntax. Grammatical Features of Romance and Non Romance Languages.
Publications & Research
Amezcua, A., Brandl, A., Duran Urrea, E., & Rodriguez, E. (2021). The switch to remote instruction in Spanish heritage language courses: Why social presence matters. E-JournALL, EuroAmerican Journal of Applied Linguistics and Languages. Special Issue, 8(2), 185-214 ISSN 2376-905X
http://doi.org/10.21283/2376905X.14.249
Rodriguez, E., Brandl, A., White, J. P., Montoya, A., & Bonilla, K. (2021). Linguistic inclusivity with Spanish heritage learners: Valuing student feedback. International Journal of Language Studies, 15(3), 45-64.
Brandl, A., & Rodríguez, E. (2020). Spanish for the professions: A proposal for an early start that includes heritage speakers. Hispania, 103(1), 21-26. DOI: https://doi.org/10.1353/hpn.2020.0009
Rodríguez, E., & Brandl, A. (2019). Knowledge of tense, aspect and mood in heritage language speakers: The case of hybrid Spanish for business courses. In Florida Linguistics Papers, Proceedings of the Florida Yearly Linguistics Meeting (Eds.), vol. 6, no. 1, pp. 64-75. Open Journal Systems, University of Florida.
Rodríguez, E. (2019). Acquisition and maintenance of Spanish subjunctive in child and adult heritage language speakers. In Between: Cultures and Languages in Transition (Eds.), Selected proceedings of the 2018 Southeast Conference on Foreign Languages. Stetson University, pp. 149-159. Brownwalker Press: Boca Ratón, FL.
Wood, C., Fitton, L., & Rodríguez , E. (2018). Home literacy of kindergarten Spanish-English speaking children from rural low SES backgrounds. American Educational Research Journal, 4(2), 1-14; DOI: 10.1177/2332858418769613
Wood, C., Fitton, L., Petscher, Y., Rodríguez, E., Sunderman, G., & Lim, T. (2018). The effect of e-book vocabulary instruction on Spanish-English speaking children. Journal of Speech, Language and Hearing Research (JSLHR), 1-25. doi:10.1044/2018_JSLHR-L-17-0368.
Rodríguez, E. Sunderman, G., & Wood, C. (2017). The relationship between parental language dominance of heritage Spanish-speaking children and child performance in normative language assessments. Heritage Language Journal, 14(3).264-287.
Rodriguez, E., Bustamante, K., Wood, C., & Sunderman. G. (2017). A Comparison of the Grammatical Production of Child Heritage Speakers of Spanish across Language and Grade: Kindergarten and Grade 1. Languages 2(4), 27; doi:10.3390/languages2040027.
Rodriguez, E., & Reglero, L. (2015) Heritage and L2 processing of person and number features in Spanish: Evidence from Spanish subject verb agreement. E-JournALL, EuroAmerican Journal of Applied Linguistics and Languages. Special Issue , 2(2), 1-19.
Grants & Awards
Co-Investigator, Bilingual Oral Language and Literacy Development, Doctoral Leadership Grant, Office of Special Education Programs, United States Department of Education, $1 million. (C. Wood, Principal Investigator).
Co-Investigator, Language Learning Dissertation Grant, Language Learning Journal, $2000.00 (M. Leeser, Co-Investigator).