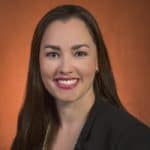 Assistant Director of Experiential Learning
Kate Herron is a native of Tallahassee. She received her Bachelor of Arts degree in Sociology from the University of Florida and her Master of Social Work degree from Florida State University. She was an AmeriCorps volunteer for two years in Chicago and stayed for another two years to work in career services for people facing homelessness. Three years ago she moved back to Tallahassee to work as an Academic Advisor in the English Department at FSU and then worked with faculty in the Office of Research. She is excited to work with students again as the Career Liaison to the College of Communication and Information and play a supporting role in putting them on the path to a purposeful life.
In her spare time, you can find her with her husband and toddler son or making a Pinterest craft (and failing miserably).