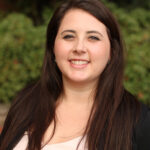 Marketing & Communications Coordinator
Phone:
(850) 644-3391
Office:
UCC 4409
Stephanie Vivirito joined CCI's Communication Team in December 2017, administering communication and marketing for the College. She develops print and digital media for entities within the College, manages CCI's social media, produces the College's biannual alumni newsletter, oversees disbursement of faculty, student, and alumni news, and coordinates events.
Prior to joining the CCI Comm Team, Stephanie worked at the Portrait Society of America as the Special Programs and Communications Coordinator. In addition to producing print and digital communication and developing content for publications, Stephanie gained experience in event planning and program management. Previously a graphic design and marketing intern at the Gadsden Arts Center in Quincy, Florida, and an editorial assistant for Professor Mary Stewart in FSU's Department of Art, Stephanie's experience in writing and editing for diverse platforms is extensive.
Stephanie earned her B.A. from Florida State University in 2015 with a double major in English (Editing, Writing and Media) and Art History. During her time as a student, she was an event coordinator and writer for HerCampus FSU and studied abroad in Florence, Italy, during Spring 2014. In addition, Stephanie was a tutor at FSU's Reading and Writing Center, where she loved the opportunity to help a wide variety of students on writing projects. Also involved with Lady Spirithunters, Stephanie has always felt a deep connection to FSU and is thrilled to be contributing to CCI. She is currently pursuing an M.S. in Integrated Marketing Communication with a graduate certificate in Project Management from FSU.
Education
M.S., Integrated Marketing Communication. Florida State University, Tallahassee, Florida. 2021, anticipated.
B.A., English and History and Criticism of Art. Florida State University, Tallahassee, Florida. 2015.
Graduate Certificate, Project Management. Florida State University, Tallahassee, Florida. 2020.