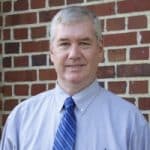 Professor
Don Latham earned his Ph.D. in English from the University of Georgia and his M.S. in LIS and Specialist degrees from Florida State University. He teaches Information Needs of Children, Information Needs of Young Adults, International Literature for Children & Young Adults,  and Introduction to Information Services. He is a member of ASIST, ALA, ACRL, YALSA, ALSC, the Children's Literature Association, the United States Board on Books for Young People, and ALISE. His research interests include young adult literature, information behavior of youth, and information literacy. He has published articles on information literacy among college undergraduates, constructions of literacy and identity in young adult literature, and the cultural work of magical realism in young adult novels, and has authored a book entitled David Almond: Memory and Magic (Scarecrow Press, 2006). He and Melissa Gross have completed a project funded by the Institute for Museum and Library Services (IMLS), entitled "Attaining information literacy: Understanding and responding to the needs of non-proficient students." This three-year project investigated information literacy skills among community college students and developed an intervention for addressing the needs of students with below-proficient skills.  With Melissa Gross and Shelbie Witte (FSU College of Education), he has completed a one-year CRC-funded research project on teacher/librarian collaboration to teach 21st Century Skills.
Education
PhD in English, University of Georgia (1995)
Specialist in Library and Information Studies, Florida State University (1999)
MS in Library and Information Studies, Florida State University (1997)
MA in English, Clemson University (1984)
BA in English, Clemson University (1981)
Research Interests
Information needs of young adults
Literature for youth
"Cultural work" of literature for youth, i.e., the ways in which literary works for youth reflect and reinforce yet also question and subvert the dominant values of the adult society that produces these works
Practical uses of literary theory in encouraging and enhancing young people's reading experiences
Electronic resources for youth
Information literacy
Online information literacy skills
Role of libraries (especially public libraries) in facilitating and enhancing information literacy skills in the online environment
Use of web-based instructional technology in teaching people (youth, adults, senior adults) to locate and use online information
Relationship between communication skills and information literacy skills
Notice to outside researchers:
Policy on Conducting Surveys: The College of Communication & Information (CCI) at Florida State University does not endorse studies which involve CCI students that are made by outside investigators.