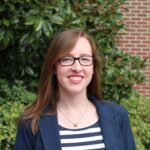 Assistant Professor
Fax:
(850) 644-8642
Office:
UCC 3135
Dr. Katherine Dale (Ph.D., The Ohio State University, 2015) is an Assistant Professor in the School of Communication. Her research interests include positive media psychology, intergroup interactions, and media effects. She is most interested in exploring the ways that media can positively affect our attitudes, behavior, and well-being. Her research has been published in journals such as Journal of Communication, Mass Communication and Society, and Journal of Media Psychology.
Education
Ph.D. 2015, The Ohio State University, Communication.

M.A. 2011, Georgetown University, Communication, Culture, and Technology.

B.A. 2006, Georgetown College, Communication Studies and English.
Research Interests
Positive Media Psychology, Media Effects; Intergroup Interaction
Teaching Interests
Content Analysis; Positive Media Psychology; Research Methods