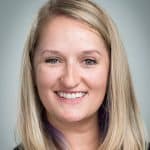 Associate Professor; Graduate Program Coordinator (TLH Campus); Director, Children's Literacy and Speech Sound (CLaSS) Lab
Phone:
8506448465
Office:
512 Warren
Dr. Farquharson is a speech-language pathologist who studies the cognitive, linguistic, orthographic, and environmental factors that influence how children with speech and language disorders acquire literacy skills. One line of work has examined how working memory, language, and orthography may influence children's abilities to learn new words, read, and achieve age-appropriate speech production. A related line of work has examined how speech therapy-level variables, such as SLPs' stress, job satisfaction, therapy quality, and IEP goals, may impact the outcomes seen in children with speech and language impairments. As a former school-based SLP, she is interested in determining how these lines of work can be used to create better assessments and treatments for SLPs to use in serving this population of children.  She has been an active ASHA member since she was an undergraduate student and has served many leadership roles at the state and national level. Currently, she is a member of the ASHA Convention Planning Committee in the area of Speech Sound Disorders and is an ad hoc reviewer for several journals.
Education
B.A. University of Pittsburgh
M.S. Penn State University
Ph.D. University of Nebraska-Lincoln
Research Interests
speech sound disorders, literacy acquisition, classroom success for children with communication impairments
Teaching Interests
speech sound disorders, school-based practices, language development and disorders
Publications & Research
Grants & Awards
2019                FSU Council for Research and Creativity Planning Grant: Using the Experience Sampling Method to Determine Dosage in Speech Sound Treatment Sessions, Florida State University (Role: PI).  Total amount awarded: $13,000
2019                Research Faculty, Improving Language and Literacy Outcomes for Children with Communication Disorders in High Need Populations: A Personnel Preparation Grant, U.S. Department of Education, Office of Special Education Programs, $1,248,418. PI: T. Macrae, 2014-19
2019                Funding Agency Travel (FAT) Grant; Travel to Washington DC to meet with IES Program Officers.
2018                Committee on Faculty Research Support (COFRS) Summer Award – Florida State University; Orthographic and phonological influences on task performance for children with phonological disorders. Funds awarded: $14,000; PI: Farquharson
2018                College of Communication and Information (CCI) Research Award. Speech and Spelling Coding Scheme (SSpeaCS); Funds awarded: $5000; PI: Farquharson, Co-PI: Patton-Terry
2018                ASHA State Association Grant (Funds awarded to MSHA: $9000)
2017                Emerson College School of Communication Innovation Grant Writing Workshop for SLPs in Training Co-PI (Funds awarded: $500)
2017                ASHA Student Advocacy Grant (Funds awarded to MSHA: $1000)
2017                Norman and Irma Mann Stearns Distinguished Faculty Award (Funds awarded: $3000)
2017                ASHA State Association Grant (Funds awarded to MSHA: $8000)
2017                Greenhawt Family Fund for Sponsored Funding Development (Funds awarded: $2,000)
2017                Emerson College Faculty Advancement Fund Grant, Does Speech Sound Production Influence Spelling? (Funds awarded: $9,000)
2016                Emerson College Faculty Advancement Fund Grant, Examining the Role of Orthography Exposure in Improving Phonological Representations for Children with Speech Sound Disorders (Funds awarded: $10,000)
2015                Emerson College Instant Innovation Teaching Grant (Funds awarded: $650)
2014                ASHA Advancing Academic Research Career (AARC) Award (Funds awarded: $5000)
2013                Post-Doctoral Researcher Travel Grant, School of Education and Human Ecology – Office of Research, The Ohio State University (Funds awarded: $500.00)
2011                Barkley Memorial Fund Dissertation Award -University of Nebraska-Lincoln (Funds awarded: $500)
2010                University of Nebraska-Lincoln College of Education and Human Sciences International Travel Award (Berlin, Germany; Funds granted: $1500.00)
2009                McDonald's MAC Grant Recipient (Funds granted: $210.00)
Awards
2017                Patricia C. Lindamood Clinical Leadership Award, Ohio School Speech Pathology and Educational Audiology Conference
2014                Meritorious Poster Award, American Speech Language Hearing Association, Poster submission: Characterizing Language Impairment: A Latent Profile Analysis of Children Receiving School-Based Language Therapy