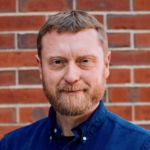 Professor
Paul F. Marty, Ph.D., is Professor in the School of Information in the College of Communication and Information at Florida State University. His research and teaching interests include museum informatics; technology, innovation, and culture; experience design; and the information society.
Dr. Marty specializes in the study of people, information, and technology in museums, and his publications explore the invisible work of museum computing, the evolving roles of technology professionals in museums, and the use of digital museum resources by museum visitors. He has served on the editorial boards and committees of national and international organizations including Museum Management and Curatorship, Museums and the Web, and the Museum Computer Network. He is currently working on an oral history of museum computing.
Dr. Marty has a background in ancient history and computer science engineering, and his Ph.D. is from the School of Information Sciences at the University of Illinois at Urbana-Champaign. At Florida State University, he currently serves as chair of the Honors Program Policy Committee, chair of the Innovation Hub Steering Committee, co-chair of the Undergraduate Program in Information Technology, and chair of the Milton S. Carothers Faculty Lecture Series.
Research Interests
Museums, technology, innovation, and design
Teaching Interests
Museum Informatics, Usability Analysis, Life in the Information Society