Associate Professor, Director of Doctoral Studies
Dr. Rachel L. Bailey is an associate professor at Florida State University. Her research program seeks to explicate complex human interactions with and via media and is rooted in biological and evolutionary perspectives including embodied, situated cognition and motivated cognition. She commonly uses this lens to investigate how media are influential in important social and health contexts, such as health perceptions, food choice, and substance use. Most recently, Dr. Bailey has begun investigating media influences in the context of perceptions of policing, violence, and social and racial justice.
Dr. Bailey's research is especially relevant in the fields of media psychology, health communication, and media processes and effects. Her work is published in leading journals in the field including Journal of Communication, Communication Research, Communication Monographs, Human Communication Research, Health Communication and Journal of Health Communication. She also has published in interdisciplinary journals including Appetite, Journal of Nutrition Education & Behavior, Cognition & Emotion, Motivation & Emotion, and Criminal Justice & Behavior.
Prior to joining the academy, Dr. Bailey worked in the advertising research industry at a small biometric research firm exclusively contracted to Disney Media Networks. She was part of a team of researchers investigating the efficacy of various ad models and production packages for Disney media assets such as ESPN, ABC, Good Morning America and others.
Dr. Bailey directs the Interactions in Communication Contexts Lab at FSU, which is a state-of-the-art lab equipped with wireless psychophysiological data collection modules (i.e., electrocardiogram, electrodermal activity, electromyography, etc.), head-mounted and screen-based eyetracking devices, and behavioral coding equipment and software. Dr. Bailey often has been contracted to consult on lab and equipment builds and perform training workshops around the world using these methodologies. For more information: https://icc.cci.fsu.edu/
Dr. Bailey currently serves on the editorial boards of Health Communication, Journal of Media Psychology, and Media Psychology and is immediate past Chair of Information Systems, one of the oldest Divisions of the International Communication Association. Please visit for more information: https://icainfosys.org/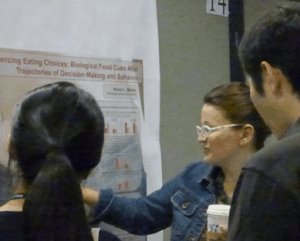 Education
Ph.D., Communication with a minor in Cognitive Science, Indiana University, 2014
M.A., Strategic Communication, University of Missouri- Columbia
B.A. Psychology, University of Missouri- Columbia
B.J. Strategic Communication, University of Missouri- Columbia
Research Interests
media psychology, health communication, motivated mediated extended cognition
Teaching Interests
Graduate: Communication Theory, Media Processes & Effects, Media Psychology, Psychophysiological and Experimental Methods Undergraduate: Advertising Strategy, Media and Account Planning