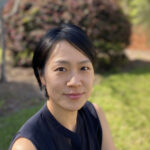 Doctoral Candidate and Graduate Assistant
Sunah Lee is a doctoral student at the School of Communication. She worked as a news reporter at a South Korean 24-hour news network, YTN, from 2005 to 2018. Due to her professional career, her research interests primarily concern the media industry, especially journalism. Also, as a mom to two daughters, her research interests intersect with female media workers and feminist social movements happening around the media.
Research Interests
Political economy of media, media industry, journalism, women's studies, critical and qualitative approach
Publications & Research
Lee, S., & Proffitt, J. M. (2022). "We bet on humans; You're our horses": The second phase of neo-poverty in South Korea as portrayed in Squid Game. Communication, Culture & Critique. 15(4), 534–535. https://doi.org/10.1093/ccc/tcac036  
Lee, S, & Proffitt, J. M. (2024). Netflix in South Korea: Patron of creativity or imperialistic conqueror? In A. Ferchaud, & J. M. Proffitt (Eds.), Television's Streaming Wars. Routledge.