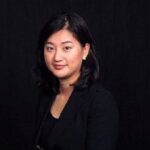 Associate Professor
Phone:
(850) 645-4804
Office:
Warren 509
Yunjung is an associate professor in the School of Communication Science and Disorders. She teaches an undergraduate course (SPA 4257 Acquired Communication Disorders) and a graduate course (SPA 5230 Motor Speech Disorders). Her primary research interests lie in the transformation from a talker's articulatory behavior to listeners' reaction. Specifically, her work has focused on identifying acoustic and articulatory characteristics of speech produced by people with Parkinson's disease that negatively impact their speech intelligibility.
Education
Ph.D., Communicative Disorders, University of Wisconsin-Madison
MS, Korean Linguistics, Korea University
BS, Korean Education, Korea University
Research Interests
Speech Science, Motor Speech Disorders
Publications & Research
*Espinal, A., Thompson, A., & Kim, Y-J. (2020). Acoustic characteristics of American English liquids /ɹ/, /l/, /ɹl/ produced by Korean L2 adults. The Journal of the Acoustical society of America, 148, EL 179- 84.
*Watkins, Thompson, & Kim, Y-J. (2019). Speech deterioration of amyotrophic lateral sclerosis before and after diagnosis: A case study of a newscaster. Perspectives of the ASHA Special Interest Groups, 4, 1189-1198.
*Thompson, A., & Kim, Y-J. (2019). Relation of second formant trajectories to tongue kinematics. The Journal of the Acoustical Society of America, 145 (4), EL323-8.
Kim, Y-J., Coalson, G. A., & Berry, J. J. (2018). A kinematic analysis of coarticulation effects on schwa. Folia Phoniatrica et Logopaedica, 70 (3-4), 203-212.
Kim, Y-J. (2017). Acoustic characteristics of fricatives /s/ and /ʃ/ produced by speakers with Parkinson's disease. Clinical Archives of Communication Disorders, 1.
Kim, Y., & Choi, Y. (2017). A cross-language study of acoustic predictors of speech intelligibility in individuals with Parkinson's disease. Journal of Speech, Language, and Hearing Research, 60(9), 2506-2518.
Cohen, A., Renshaw, T., Mitchell, K. & Kim, Y-J. (2016). A psychometric investigation of "macroscopic" speech measures for clinical and psychological science. Behavior Research Methods, 48, 475-486.
*  indicates student'sprojects under my direction.
Grants & Awards
Kim (PI), Articulatory modifications across speaking modes, LA Board of Regent Support Fund, $18,388, 06/01/19-06/30/20
Kim (mPI with Drs. Hyunju Chung and Todd Gibson). Application of ultrasound imaging to speech-language pathology, LSU Student Technology Fee Support, $45,692, 2018
Kim (PI), Speech kinematics in individuals with Parkinson's disease. LSU Faculty Research Grant, $10,000, 07/01/16-06/30/17
Kim (PI). The same dysarthria in different languages: hypo kinetic dysarthria in English and Korean. NIH-NIDCD, $426,999, 09/15/12-08/31/17
Kim (PI). Articulatory kinematics research using an electromagnetic system, LSU Humanities and Social Sciences Support for New Technology, $55,890,  2015