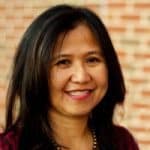 Associate Director of Development
Phone:
(850) 645-8312
Fax:
(850) 644-9763
Office:
UCC 4410
Mafé Brooks is the Director of Development of FSU's College of Information and University Libraries. Before this position, she was an Annual Giving Development Officer for FSU's Undergraduate Studies-Honors Program and the College of Medicine. Prior to her career in the development field, she was the Assistant Director for Programs & Development at FSU's International Center. Her educational background is in Linguistics, Education and Teaching English as a Second Language.
Her professional affiliations include the Academic Libraries Advancement & Development Network (ALADN), the Council for Advancement and Support of Education (CASE) and the Association of Fundraising Professionals (AFP).
Mafé is passionate about giving back to the community so she is involved with a few local non-profit organizations. She currently serves on the board of the Character & Heritage Institute and the Big Bend Filipino-American Association. Past board and committee service includes the Asian Coalition of Tallahassee, Literacy Volunteers of Leon County, and the March of Dimes.