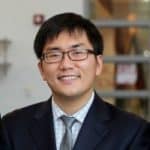 Assistant Professor
Dr. Zhe He is an Assistant Professor in the School of Information at the Florida State University (Florida's iSchool) and a Core Affiliate of the Institute for Successful Longevity. Before joining FSU, Dr. He was a Postdoctoral Research Scientist (2014-2015) in the Department of Biomedical informatics at Columbia University, working with Dr. Chunhua Weng. In his postdoctoral research, he has developed methods for assessing the collective population representativeness of clinical studies with the goal of improving the transparency of study generalizability to the real-world population. During his PhD studies in Computer Science at New Jersey Institute of Technology (2009-2014). He worked with Dr. James Geller and Dr. Yehoshua Perl in the Structural Analysis of Biomedical Ontologies Center (SABOC). His doctoral dissertation "Using Structural and Semantic Methodologies to Enhance Biomedical Terminologies" introduced a variety of quality assurance methodologies for controlled terminologies and ontologies e.g., Unified Medical Language System (UMLS), SNOMED CT, and domain ontologies in BioPortal. As the first author, he has published in leading biomedical informatics journals such as Journal of Biomedical Informatics, Artificial Intelligence in Medicine, and mainstream informatics conferences such as American Medical Informatics Association (AMIA) Annual Symposium, and World Congress on Health and Biomedical Informatics (MEDINFO). His papers were nominated as Student Paper Award of AMIA 2015 Summit on Clinical Research Informatics and MEDINFO 2015. His AMIA 2013 paper was selected as the representative paper on "biomedical ontologies" in the "Informatics Year In Review". He is a recipient of the Distinguished Paper Award of AMIA 2015 Annual Symposium. During his PhD studies, he was inducted into Alpha Epsilon Lambda National Graduate and Professional Honor Society. He received his MS from Columbia University and his BS from Beijing University of Posts and Telecommunications, both in Computer Science. In his spare time, Zhe loves photography and traveling. This is his
Photography Studio Website
. Find more information about Zhe and reach out to him at his
website
.
Education
Postdoctoral Training. 2015: Columbia University, Biomedical Informatics
Ph.D. 2014; New Jersey Institute of Technology (NJIT), Computer Science
M.S. 2009; Columbia University, Computer Science
B.E. 2007; Beijing University of Posts and Telecommunications, Computer Science
Research Interests
Dr. He has broad interests in biomedical and health informatics, clinical research informatics, knowledge discovery, and ontology-based data analytics. On the foundational track, he is developing semantic and structural methods to enhance controlled terminologies/ontologies and improve their utility in natural language processing, clinical decision support, data analytics, and electronic health records. On the application track, his research aims to improve the representation of underserved population subgroups in clinical studies such as older adults with multiple chronic conditions. Another line of his research is to bridge the terminology gap between health information consumers and health professionals. He has published in the following topics:
Quality assurance of biomedical ontologies (e.g, domain ontologies in BioPortal)
Quality assurance of controlled vocabularies (e.g., SNOMED CT, UMLS)
Data-driven conceptual content enrichment for ontologies/terminologies (e.g., SNOMED CT, NCIt)
Clinical trial generalizability assessment and improvement
Consumer Health Vocabulary
Teaching Interests
This semester he is teaching an undergraduate special topic course "Data Analytics" (LIS 4930). In the 2016 Fall semester, he is going to teach graduate courses "Database Management Systems" (LIS 5782) and "Management of Health Information Technology" (LIS 5788).
Publications & Research
Clinical Research Informatics
Biomedical Terminologies / Ontologies
Grants & Awards
First Year Assistant Professor Grant. Council on Research and Creativity, Florida State University,05/2016-08/2016
Runner-up, the Most Interesting Preliminary Results Paper Award, iConference 2016,03/2016
Amazon Web Services Education Research Grant Award, Amazon Inc. 12/2015-12/2016
Distinguished Paper Award, AMIA 2015 Annual Symposium, 11/2015
Finalist of Student Paper Award, the 15th World Congress on Health and Biomedical Informatics, 08/2015
Finalist of Student Paper Award, American Medical Informatics Association 2015 Clinical Research Informatics, 04/2015
Paper Selection in the 2014 Informatics Year in Review, 11/2014
Third Place Poster Award, the 1st Columbia University Postdoctoral Research and Career Symposium, 03/2014
Outstanding Student Leader Award of 2013-2014, New Jersey Institute of Technology, 05/2014
Student Achievement Award, New Jersey Institute of Technology Graduate Student Association, 10/2012
Distinguished Graduates of Beijing, Beijing Municipality Education Committee, 07/2007