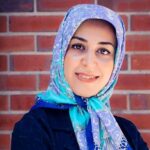 PhD candidate--Graduate instructor lead/Teaching assisstant
Maedeh Agharazi is a doctoral student in the information program at Florida State University. Her educational background covers both education and information technology. She is interested in data analytics. Trust in the workplace and online environments, and the process of decision-making in different contexts fascinates her.
She did some data mining projects related to cancer data. Also, she did her master's dissertation on the perception of English language learners using Twitter as a learning tool.
Currently, she is working on her dissertation which studies the information behavior of people during COVID-19. She wants to investigate the potential relationship among people's consumption of information from different sources and channels of information, demographics, their e-health literacy skills, and their belief about COVID-19 with their level of information overload, information anxiety, and information avoidance.
She also worked with Dr. Rankin on her project on the underrepresentation of African-American women in computing.
Courses that Maedeh was TA and instructor for:
LIS 5768 Introduction to Information Architecture
LIS 5362 Design and Production of Networked Multimedia
IDS 2144 Information Ethics in 21st century
LIS 5408 Management of Information Organizations
LIS 5203 Assessing Information Needs
LIS 4708 Perspective on Information Technology
LIS 5703 Information Organization
LIS 3037 Empowering Health Consumers in the eHealth Era
EDF 2082 Schooling and Development in the Third World
Education
Doctoral student, Ph.D. of Information. Florida State University, Tallahassee.
M.A. Sociocultural and International Development Education Studies. Florida State University, Tallahassee.
M.A. Master of Multimedia (Major, E-learning Technologies). Multimedia University, Malaysia.
B.S. Information System Engineering, Multimedia University, Malaysia.
Research Interests
Health information behaviors, Health informatics, Data analytics, Decision making systems